Enjoy watching the top 3 most-viewed Los Angeles Lakers videos as ranked by our Probasketballintel trending rank score!
Our ProBasketballIntel trending rank score has identified the top videos about the LA Lakers over the past year. Here are the top 3 videos ranked by most YouTube views:
Lakers versus Warriors 2019 NBA Preseason (Clive NBA Parody channel with 7M views)
Lakers versus Spurs Highlights from the 2018 NBA Season  (YouTube MLG Highlights channel video with 4M views)
LeBron James Shocks Crowd with Lakers Comeback versus Rockets (Clive NBA Parody with 4M views)
Two YouTube channels are featured in the top 3 Lakers videos with Clive NBA Parody having 2 videos and MLG Highlights Channel having 1 videos making the Top 3 list.  Our proprietary media analytics platform analyzed over 21,700 NBA videos from the past year.  Enjoy watching the top 3 Los Angeles Lakers videos ranked by the highest YouTube views for the past year below.
 1)  Lakers versus Warriors 2019 Preseason
Los Angeles Lakers vs Golden State Warriors Full Game Highlights! Los Angeles Lakers vs Golden State Warriors October 5, 2019-20 NBA Preseason
2) Los Angeles Lakers vs San Antonio Spurs Full Game Highlights
This is a game highlights video completed by MLG Highlights YouTube channel….
3 LeBron Shocks Crowd in Lakers versus the Rockets
LeBron James Shocks Entire Crowd With Lakers After Crazy Comeback vs Rockets! Lakers vs Rockets February 22, 2019 NBA Season
Powered by our proprietary media analytics platform, ProBasketballIntel.com can show fans the "most liked" and "most viewed" videos for every NBA team.  Per the image below, just search on your favorite team and utilize the toolbar at the top of the page to view your desired time window (day, week, month, year) and sort criteria (most liked or most viewed).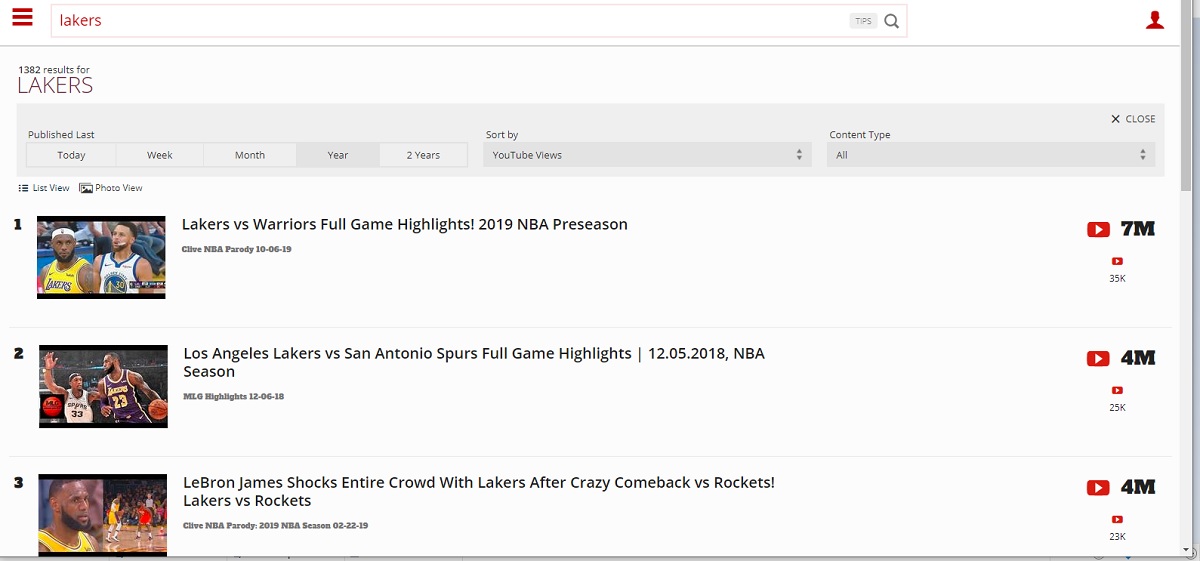 Remember to "share" this with other NBA fans!