The rise of the Millennial and Generation Z audiences will start driving more NBA advertisers to sponsor mobile video campaigns....learn why here. . .
The Rise of the Short Form Video Generations
Both Millennials and Generation Z were raised on Smartphones as their preferred device and the mobile behavior of this audience will start changing the consumption of NBA related content for the foreseeable future.  The generation Z (born after 1997) will make up 40 percent of consumers by 2020 and already has a direct spending impact of $143 billion dollars.  The under-22 demographic consumes more than 3.5 hours of video daily, a majority of which is on mobile devices (according to Dude Perfect Chief Business Officer Jeff Toney and other recent studies).  Most of the video is consumed in short snippets and by brand influencers connecting with the audience.  This is a strategy that cultivates audience trust while offering significant engagement for nimble content creators.  Millennials and Generation Z are known for having shorter attention spans preferring short form video content in the 2-10 minute segment length.
When eyeballs move, advertising dollars follow to the digital destinations where content is consumed.  There is typically a lag of 12-18 months where the consumer behavior changes and it takes some time for Sports Marketing firms, Ad agencies and brands to catch-up and adjust ad campaigns to the most engaging destinations.   Based on the content consumption behavior of Millennials and Generation Z, mobile video consumption will be the preferred destination for the next several years.  "The impact on sports is yet to be fully felt, but it's coming.  The young generation is redefining sports; less watching on TV, less attending live traditional sports.  They're still followers, but on social and they're able to follow niche, non traditional sports" stated John West (founder of Whistle, a sports and entertainment media brand).  A recent 2019 survey from the business website The Manifest backs up this point reporting that 89% of Gen Zers use YouTube, 74% use Instagram, and 68% use Snapchat on a weekly basis.  Mark McIntyre, CEO of advertising and web design agency MaxAudience, concluded that the flight to purely visual platforms such as Instagram, Snapchat, and YouTube could be because younger audiences aren't interested in sifting through different kinds of content to get to what they know they like.  Despite the popularity of pictures and photo sharing platforms, video has come to rule the entire social media landscape. Video provides a richer form of content than text and photos and is far more versatile.  For a teen attempting to master NBA2K video gaming, it is much more effective to watch and learn from a successful NBA video gamer than to read an article.
Implications for NBA Brand Advertisers and Sports Marketing Agencies
There are an estimated 825M global pro basketball fans.  To sustain and grow the NBA fan base will require driving successful fan engagement with the Millennial and Generation Z audiences.  The NBA has several large brand sponsors that have heavily backed the sport for the past several years.  Some major NBA brand sponsors include Verizon, Mountain Dew, Adidas, Nike, Under Armour, American Express, Budweiser, Pepsi, McDonalds, Kia, State Farm Insurance, Gatorade, Taco Bell, Mobile 1, DraftKings, FanDuel and the NBA2K video game.  When you add the brand sponsors for each NBA team, the list quickly grows and includes many of the top national brand advertisers.
One major challenge for Brands and Sports Marketing ad agencies has been identifying the top video influencers and most engaging videos for specific fan interests (e.g. NBA highlights, Fantasy Basketball, NBA video gaming, etc.).  YouTube only supports one "Sports" genre that combines all pro sports, college sports, and amateur sports together as one giant lump of sports videos.  Most of the Video Analytics platforms follow suit and also cover "sports" as a single genre.  Brand advertisers focus on specific pro sports and need video data and insights for each pro sport (basketball, football, hockey, baseball, soccer, cricket, boxing, MAA, golf, tennis, rugby, lacrosse, etc.).
ProBasketballIntel.com solves this issue for ad agencies and brands that focus on NBA advertising.  The proprietary media analytics platform powering the website is the first site to curate, aggregate and rank all NBA related videos across over 400 different video publishers of NBA related video content.   The site currently ranks over 21,700 NBA videos for the past year and adds and ranks over 1,200 new NBA videos each week.  Website users can view video rankings and discover top video influencers by each fan interest category (NBA news, fantasy basketball, basketball video gaming, etc.).
Figure 1.1:  ProBasketballIntel.com Website Menu Navigation by Fan Interest
ProBasketballIntel.com
Website users can also search on any NBA topic, team or athlete to see the "most viewed" or "most liked" videos for each search topic.  For example, a Brand Sponsor of the Los Angeles Lakers might want to identify the most engaging Laker videos for a brand sponsored content campaign.  This is easily accomplished by searching on "Lakers" and then using the website toolbar at the top of the page to select the desired time window (today, week, month, year) and video sort criteria (most liked or most viewed).
Figure 1.2:  Discovering the "Most Viewed" Los Angeles Laker videos for the Past Year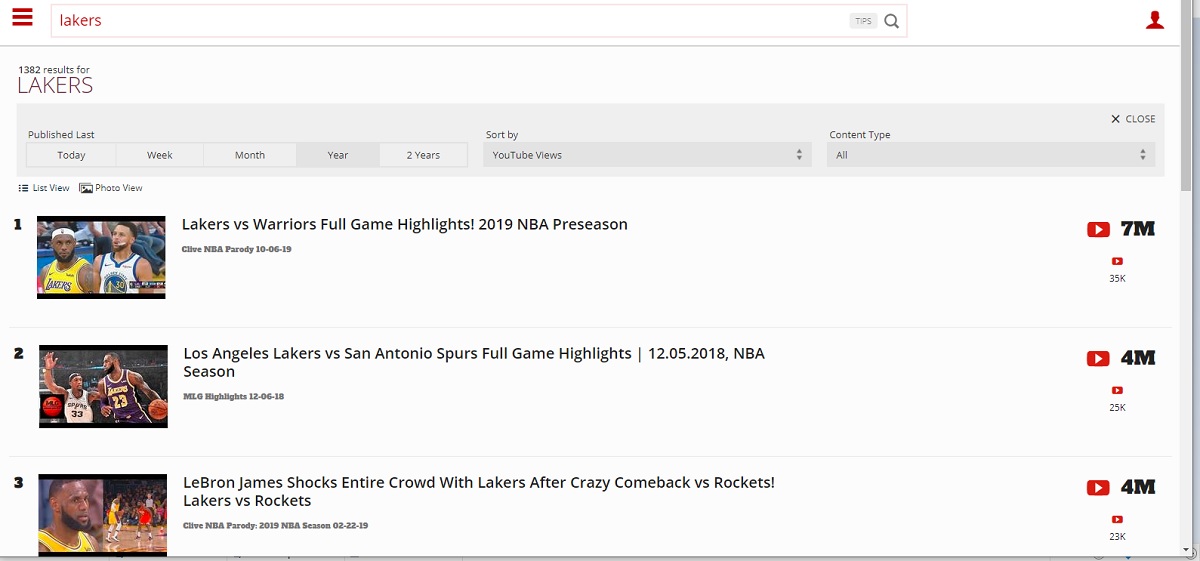 When you consider 30 NBA teams and at least 5 star athletes per team, there are endless numbers of brand sponsored video campaigns that could be linked to the most engaging videos for each NBA topic, team or athlete.  Daily
basketball fantasy sports
,
NBA video games
, and
sports betting
represent additional growth sectors for brand advertisers.
The rising popularity of video is providing brands and ad agencies more incentives to create engaging video content. Marketers, influencers, news sites, and anyone hoping to reach the next consumer generation will need to invest in video content. A 2018 Pew study showed that 85% of teens use YouTube.  And according to Google (which owns YouTube), they are using it to gain knowledge or learn skills ("how to win at fantasy sports" and "tips for pro sport video gaming" are two examples).  As the influence of Generation Z and Millennials continues to impact pro sports, we expect to see a significant increase in brand sponsored content focused on mobile video audience engagement.
Remember to "share" this article with any ad agencies or brands focused on pro basketball advertising.  If you are interested in discussing brand sponsored video content for the pro sports space, email steve [AT] sportsmediaintel.com.
Related article:  Top 5 "Most Viewed" NBA Videos of the Past Year.